Customize your Zwinky Profile!
Now that you've created your Zwinky, why not customize your Zwinyk Profile as well? Adding images and font colors to the page really makes it your own. And since most Layout sites out there aren't made for our Profile page, I thought we should give you some pointers to help you pimp it out (always here to help out!). I pimped mine out (with super help from Louis, one of our designers here - go Louis!), so check it out here to see what you can do: misscasey's profile
Here's how:
Go to your Zwinky profile

Below your Zwinky avatar, find the "Edit profile" link. Click on this link.

On the Edit Profile page, look for the "Custom Stylesheet" area, and click on " Click to display" link.
In this area, you can add CSS code to customize the look and feel of your Profile page, from changing the background image to adding your favorite music videos from the Web.
To help you out with how to code this, here is a basic CSS example to start with: CSS Sample document with notes! Also, if you need some more CSS codes to work with, here is a CSS codes table to help out some more.
Hope this helps you all out in pimping out your profiles. Zweet!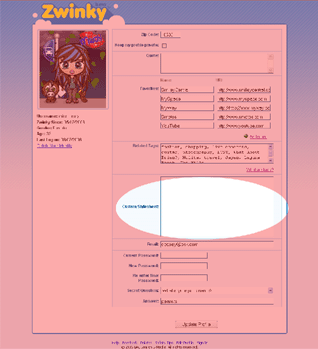 Look for this text area on the Edit Profile form
and add your CSS code here!