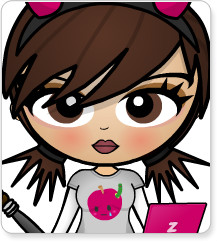 Useful Resources
Miss Awesome

Member Since: January 1st, 2010
Who is Miss Awesome?

Creativity is Miss Awesome's business! She is Zwinky's greatest authority on design, managing the fabulous, international team of artists that give Zwinktopia's clothes, furniture and architecture its distinctive, incredible look. When she's not working to make Zwinktopia as cool as possible, she likes spending time hanging out with friends and family, pampering her fancy car, drinking cherry slush puppies and collecting cool designer toys! Keep an eye out for blog posts from Miss Awesome on ways you can share your designs in one of our great boutiques!

What can you do to stay safe in Zwinky?

1)

Do not share your personal information with other Zwinkies during chat or on your profile.

2)

Report Zwinkies who threaten, bully, or behave inappropriately towards you.

4)

If you ever feel truly threatened, tell a trusted adult or contact your local law enforcement.